Stephen Hendry vs Jimmy White (Final) WSC 1994
A crucible's classic historic decider between Jimmy White & Stephen Hendry at the final of World Snooker Championship 1994.
If you are a snooker freak, you probably remember the '94 WSC final for Jimmy White's heartbreaking missed black in the final deciding frame.
It was a test of nerves more than a test of skills. Hendry also had a slice of luck when that pink barely went in as he played it with a rest.
We also remember some amazing piece of sportsmanship by Stephen Hendry in the final of WSC 1994. Hendry was leading 16-15 with 32 points lead. He snookered Jimmy White and Jimmy failed to hit it. Referee called a free ball. Hendry could have taken the free ball and clear the table making the frame lead of 17-15 needing only one frame to take the title.
But Hendry contested the free-ball call and Jimmy appreciated his decision by tapping on the table. It was a show of true sportsmanship and a proof that Hendry would rather lose his world title than accept an unfair advantage over his opponent.
This match was Jimmy's closest attempt to win the World title. He twitched on an easy black off it's spot, leaving Hendry to clear up the table with a tremendous break with such calmness that made the legend he is today.
Hendry later remarked that he was shaking like a leaf. But to hold his nerves in such circumstances is the quality that made him the king of the Crucible seven times.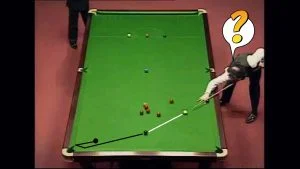 Jimmy White's famous black miss that cost him the 1994 WSC Title
What if Jimmy White didn't miss the black? What if Stephen Hendry's pink with the rest had stayed in the jaws and didn't go in? These are the questions that will haunt Jimmy White and his fans forever. He is simply the best snooker player ever who could never win a World Championship unfortunately.